Australian wine exports to China climb by 40pc to $520 million in 2016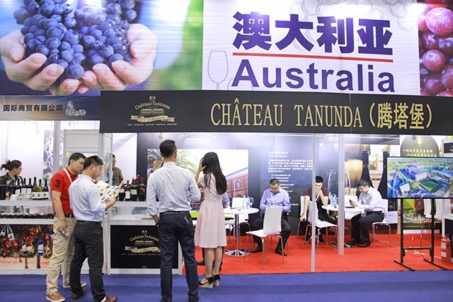 China has sustained its position as Australia's top wine export market, with the value of the market growing by 40 per cent in 2016, according to annual figures released by Wine Australia.
China overtook the United States as the biggest buyer of Australian wine at the end of 2016, according to quarterly results published in November.
It is embracing imported wine faster than any other country, and increasingly the Chinese drop of choice is coming from Australia.
About $520 million worth of wine was exported from Australia to mainland China in 2016, up from $370 million in 2015. When Hong Kong and Macau were taken into account the figure exported was $630 million.
"It's incredibly exciting," Wine Australia chief executive Andreas Clark told Landline. "I have been with Wine Australia for 10 years and there's been some tough times … but now we are starting to see a growth story and some optimism coming through. China is now our number one market for Australian wine — it used to be the United States, but China has now jumped ahead."
Last year there were more than 1,300 Australian wine exporters shipping to China, and while the value of wine had increased, volume increased at a slightly stronger rate — up 45 per cent to 99 million litres — due to a surge in bulk wine exports.
According to the Wine Australia data, bottled exports still accounted for 94 per cent of the Australian exports to China.
Clark said he was buoyed by the fact the Chinese were increasingly choosing premium Australian wine over the cheaper drops. Exports of wine retailing in China for between $20-$30 per litre is up by 53 per cent.
"There's a whole range of factors at play," Clark said. "Clearly the China Free Trade Agreement has provided a great fillip for that growth story."
On January 1, 2017, tariffs fell again under the China-Australia Free Trade Agreement (ChAFTA) to 5.6 per cent on sparkling and bottled wine and 8 per cent on bulk wine, and they will be fully eliminated in 2019. "So that helps our competitiveness," Clark said.
But he warned the wine industry it should still proceed with caution, and did not believe there should be a massive planting of wine grapes to fill the demand. "We don't want to be in a situation where we run into excess plantings," Clark said. "We did that in the past, and we need to learn from that lesson. We need to supply our bit of the market … and do so at the appropriate price points which deliver sustainable return back through the value chain in Australia, back through the exporter, the producer and importantly the grower, and leave something for the consumer as well. That is the balancing act we need to reach."
If you want to be part of the action, participate at TopWine China 2017 in Beijing.