China National Convention Center Grand Hotel.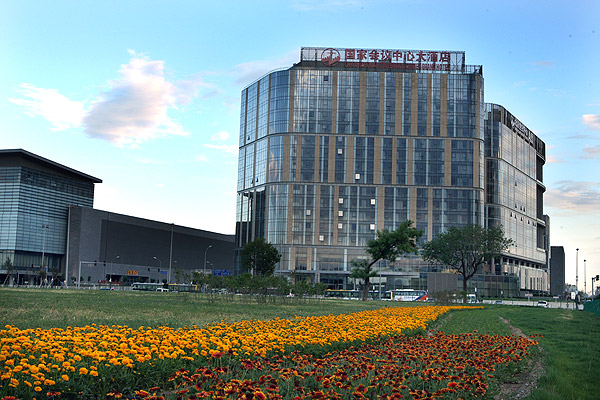 CNCC Grand Hotel, located in the center of the Beijing Olympic Green, is a deluxe international standard hotel with 420 comfortable rooms. It was one of the official hotels accommodating to journalists reporting Beijing 2008 Olympic Games. CNCC Grand Hotel is adjacent to China National Convention Center. With the help of a skybridge between the Hotel and the Center, it takes only 3 minutes to walk to the Center. The Hotel is also within walking distance to the Bird Nest (China National Stadium), the Water Cube (National Aquatics Center) and the State Indoor Stadium all of which are key Olympic venues.
CNCC Grand Hotel is just 26 km (16 miles, 30 minute drive) from the Beijing Capital International Airport and 8km (5 miles) from the heart of Beijing. Thanks to the newly-expanded subway network and particularly one subway stop at China National Convention Center, guests will find it very easy to take the subway to the airport, city center, central business district (CBD) as well as to world-famous tourism attractions such as the Forbidden City, Summer Palace and the Temple of Heaven. And it's also extremely convenient to go to the Great Wall, a must-do while in Beijing. The state-of-the-art hotel has 16 floors and is 60m (197 ft) high, with 363 deluxe rooms, 71 executive rooms and 9 executive suites. Each room is carefully designed and equipped with internet access, a wide variety of TV programmes, quality furniture, bath and sleep amenities as well as wide-view windows facing the beautiful Olympic Green.