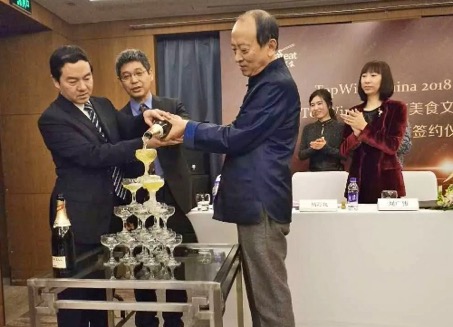 At the end of November, 2017, the TopWine China (TWC) organisation and The EastEat Culture Industry Group held a signing ceremony and press conference to honour their strategic alliance agreement and partnership in Beijing during the TopWine 2017 Beijing Hotel Exhibition.
This is the first-ever strategic partnership of its kind between TopWine China, the successful international wine exhibition and conference and The EastEat Culture Industry Group, the Eastern food culture industry group organising the International Food Service Sourcing Exhibition.
Mr. Zhu Xiaodong, general manager of Partnerworld, the Chinese co-organiser of TopWine China and Liu Guangwei, chairman of the EastEat Culture Industry Group, were in attendance and signed the agreement on behalf of their enterprises.

Mr. Liu Guangwei, expressed the importance of the cooperation with TopWine China. "Over the years TopWine China created a high professional image here in China. I strongly believe this cooperation will provide exhibitors with a more specialized and international exhibition platform, attract more enterprises to get involved and promote the positive interaction between exhibitors and visitors. I am confident that our cooperation with TopWine China will accelerate development of both our exhibitions."
"We are delighted to embrace this new strategic partner. Their food event, running parallel with TopWine China in the China National Convention Center in Beijing, will bring new opportunities for these exhibitions," said Mr. Zhu Xiaodong of TopWine China.

One of the special events that TWC and EastEat will organize together is a Fine Food & Wine Competition. On a so-called 'cooking island' at the TopWine China event in May, 2018, international chefs will cook oriental food, while the TWC exhibitors will provide the wines that matches with these culinary dishes. A jury selects the best combination.